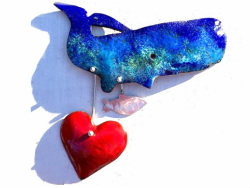 We caught up with Perth-based artist Gill Cordiner to discuss her delightful enamelled designs!

Your beautiful jewellery is so vibrant and colourful! How did you find your niche?
I think I found a niche because enamelling is not such a common medium and as I am a trained fine artist I have a different perspective than most jewellers. My use of whimsical shapes and strong colour used in a contemporary way makes my work unique.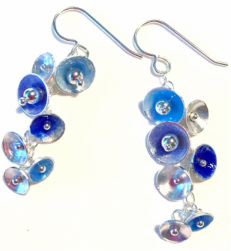 What inspires and motivates you?

I am inspired by every random event and chance occurrence that happens to me in my day to day. I have a very encyclopaedic brain - I take in everything I see and it reappears in the form of art and metal. I am a very self-motivated person I strive for more and more and more - I keep pushing myself to be better and make more.

What does a "normal" day look like for you?

My days are rarely normal but on an average day I do the school run, walk the dog, play my guitar for 10 minutes then hit the studio. I work very hard and try to be as productive as I can. I love to sit in my garden at lunch amongst the trees and enjoy the peace, then back at it sawing, firing and filing. I enjoy the solitude but all too often there are custom pieces to make and emails to answer. A quiet uninterrupted day is my dream day.

What has been the biggest challenge you have faced with your business?

To fill the demand for my work and to fit it all around the family time is my biggest juggle. Next year I hope to take on an intern. This year has been so busy.

What, in your opinion, makes your business so special and unique?

I think my business is unique because I don't copy anyone. I don't follow trends or try to make what I think will be popular or cool. I stick to my own ideas, my own designs and hope that somewhere in the universe there are like-minded people. Thankfully there are not too many but just enough to be selective and individual.

Where would you like to see your business in 5 years?

I'd like to see my business a bit more streamlined and not such hard work for me. I hope an intern will help. I also want to pursue my competition exhibition side. This year I won a visual art award for my necklace 'A Mermaids Kiss' and I have been picked as a finalist in a major prestigious competition in the USA - this will give me more global recognition. I am enjoying my work. It makes me happy to have little pops of Gill colour all over the world.
You can visit Gill's website
here
and Facebook page
here
.