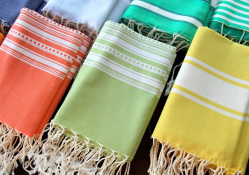 We chatted to Andrew of chic Coast label Farmer Drew about his eco-friendly fairtrade products...

Your beautiful baskets and fouta towels are both chic and practical. How did you find your niche?
When I arrived in Noosa I went regularly to the Noosa Farmers Market and noticed something odd. While the locals and visitors were supporting the local farmers and growers by buying home grown, spray free, organic, handmade etc, they were still...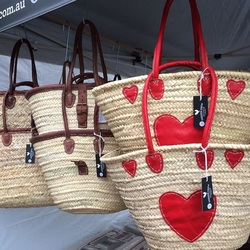 carrying their goods away in single use plastic bags! I saw the need for an alternative and voila Farmer Drew was born! My fouta towels are also eco-friendly. For example; since they are thin and lightweight (the opposite to a bulky and sandy filled 'toweling' towel), they take up less room in the washing machine and they dry in no time on the line instead of in the dryer. Just a small thing but every little bit helps!

What inspires and motivates you?
I am inspired and motivated knowing that in some small way my products 'won't cost the earth'. I like to think that I am helping save the planet in style.

What does a "normal" day look like for you?
I get up at about 6.30 and take my Labrador Sambo for a walk through the National Park behind our house. (There are tracks where you are allowed to walk dogs through the park that lead to the beach). He loves his walks and is nudging me to get out of bed each morning! I get back check my emails and pack the online orders that have come in overnight and take them off to the post office a bit later in the day. I have recently completed Ben Angel's '30 day business turnaround program', which has given me some great tips on how to improve my business. I spend part of each day working on this.

What has been the biggest challenge you have faced with your business?
Getting known and building a following is a challenge with a small business. There is so much choice out there for the consumer. Building a good reputation takes time and effort but definitely pays off in the end.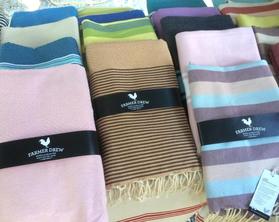 What, in your opinion, makes your business so special and unique?
My brand values are: Environmentally friendly. Quality. Value. I also pride myself on offering an excellent and prompt service.
Where would you like to see your business in 5 years?
Ideally I would love the online side of my business to be 80% of the business. You can buy online and yet still be supporting local businesses. Unlike a few years ago, when the trend was buying online from overseas, there is now a turnaround and we are buying more online from local Australian businesses.
You can visit Farmer Drew's website here and Facebook page here.