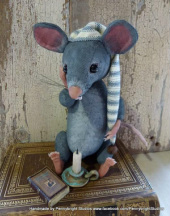 We caught up with dynamic mother & daughter duo Vanessa and Glynnis of
Pennybright Studios
to discover more about their creative business.
Your creations are so unique! How did you get started?
After working with polymer clay for many years, we were looking for something we could do together. We had always been a fan of fabric art and were both collecting inspiring fabric creations on Pinterest! So we decided to take ourselves on a fabric adventure where we could combine our love of vintage textiles with polymer clay, paint and other media to create unique and very special animals...
What inspires and motivates you?
We are constantly inspired by everything around us! Colours and textures in nature and our love of animals particularly inspire us. We adore vintage fabrics and where possible, we use them in our creations.

As business partners, do you work well as a mother and daughter team?
Oh yes! We have an absolute blast together. We have the same sense of humour and very similar tastes so we have a wonderful time dreaming up new creations. Our skills complement each other too – Mum does all the sewing and I do most of the painting and decorating! But we always dream together!

What does a "normal" day look like for you?
When we work together we usually sit around my kitchen table, with ready access to coffee and good lighting! Intense focus is regularly punctuated by lots of laughter. It's lovely sharing these experiences with each other. So much love and laughter goes into each creation!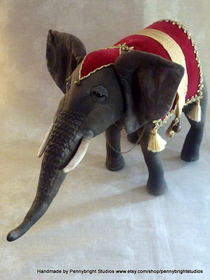 What has been the biggest challenge you have faced with your business?
People buy our creations for all sorts of reasons – as special newborn gifts, for Christenings or other special occasions, as heirloom gifts, for children's bedroom décor, for the man who has everything, or for home décor. It's challenging to know how to market our creations as they appeal to such a large range of people for such a diverse range of reasons!
What, in your opinion, makes your business so special and unique?
Our business is unique because we use such a wide range of techniques to create each beautiful animal. We are often incorporating stitching, polymer clay, painting, needle sculpting and air brushing in one creation! We spend hours sourcing vintage materials and learning techniques to give our creations that vintage feel. And the fact that we do it together, as mother and daughter, means that every stitch and brush stroke has been surrounded in warmth and laughter as we create.
Where would you like to see your business in 5 years?
We'd love to see our creations continue to be recognised for their uniqueness in our field, both within Australia and overseas. We want to continue to develop our skills and our "look" so our creations will be instantly recognisable as ours, but each still individually unique. And in 5 years we'd both love to be able to stay home and create all week, as our full time job!
Visit Pennybright Studio's online store
here
and Facebook page
here
.