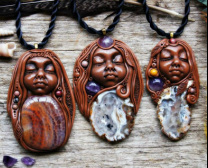 We caught up with Tina of TRaewyn Earthy Artisan Jewellery
to chat about her Victorian-based creative business.


Your whimsical creations are so very beautiful. What inspires you?
That is a hard question, simply because so many things inspire me! I have a section on my website where I wrote this: "TRaewyn Jewelry is inspired by Gaia, by Mother Earth, The many different Goddess's, The Wild Woman and the Love of the Earth, the Forests, The Mountains and the Ocean...
Jewelry celebrating our connection to Mother Gaia. Representing love and gratitude to her, for all that she gives. To the ancients, gemstones and crystals were a bridge to the sacred energies of Gaia, Mother Earth and a direct link to the unseen realms of the Divine, a connection to the sacred medicine of the earth.The jewelry captures the essence of the wild woman, the woman who is in touch with her instincts, loyal of heart, the dreamer, the storyteller, her strength and her endurance." I love the concept of a 'wild woman': wild in the sense of being free, true and soulful. This is what inspires me!

What made you decide to set up your own business? It all began when a lovely friend of mine started making jewelry from clay... we had done crafty little projects before, and I had always been painting, drawing & creating. But I had never used clay. She handed me a lump of terracotta, and I proceeded (as most people do) to make a clunky & slightly awkward looking clay animal. After a few attempts, I eventually created a pendant which I was quite proud of... she taught me how to add a patina effect to the piece, a little mica powder for some 'shimmer', and before I knew it, I had transformed a lump of clay into something quite beautiful. I was addicted. I immediately purchased a couple of slabs of terracotta, a handful of gemstones & some leather strapping - and I vanished into a world of ideas and imagination. Then something I never imagined in my wildest dreams happend....I was wearing one of my creations at a market and a lady offered me $100 for it. I actually gave it to her for nothing, as I was so absolutely thrilled that someone had noticed my work! With encouragement and support from my husband, and friends, I devoted almost all of my time to creating jewelry...with the intent to start selling my work.

Tell me about the use of stones in your work. How do you decide which stones to use in which pieces? I use crystals and gemstones that I find beuatiful, I select all of the gemstones myself, and generally it is the shape and color that appeal to me. Sometimes though, a crystal will just seem right, even if it is not one of my favorites. Its all about intuition for me! I don't design a piece and then add a gemstone, it's more that the gemstone decides what I will create around it!

What does a "normal" day look like for you? I wake up early and tend to the household duties, which includes feeding my rescue chooks and rescue rainbow lorikeet... and all of the usual cleaning etc. Then I do my daily post office run, sending of the previous days orders (and sneak a latte in at the local cafe). Then the rest of the day is spent in my studio creating, and on the computer, chatting with customers and answering queries. I also try to fit in the photography in the afternoon, when the light is just right. My nightime is spent listing items and tweaking the website. It is a very full day!

What has been the biggest challenge you have faced with your business?
When I started my own Etsy shop, I had to learn ALL of the tools of the trade - the photography, the editing, all of the different skills associated with search engines, media and marketing my items. As well as all of the purchasing, pricing and inventory needs. This has been the biggest challenge, me being an artist who just wanted to 'play'.


What, in your opinion, makes your business so special and unique?
I hope that it is because I try to make the experience more personal, my customers are buying directly from the artist, they get to talk to me, ask questions, and we end up forming wonderful friendships.
Where would you like to see your business in 5 years?
I am so happy with the business as it is, but a secret dream of mine, would be to have a beautiful large studio and gallery, where people can come and see my work - hold it in their hands, rather than just the online shop. I love that idea so much! I even have a little dream board with a sketch of what I would hope it would look like!
Visit TRaewyn Earthy Artisan Jewelry's website
here
and Facebook page
here
.