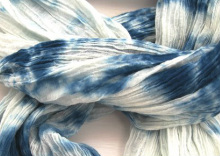 We recently caught up with Anne of Annie's Workroom to discover more about her eco-friendly business...


What made you decide to set up your own business?
Working with the environment around me and making led me to begin the workroom. It gives me an opportunity to use my traditional handskills to make objects and art, and to share these skills with others as a way of honouring our mixed heritages...
Eco dyeing is an interesting concept. How did you get involved with this?
The first time I saw eco dyeing was in a small store in Surry Hills, Sydney, I was still working in the fashion industry and fell in love with the work of a women called India Flint. Years later when we made the tree change, India was teaching in Brisbane, so I attended a weekend workshop. My first attempts to recreate some of the effects from that weekend were dismal, but after a year of intensive dyeing, researching and experimenting it started to give me more pleasure.

What does the eco dyeing process involve?
The process of eco dyeing can be quite simple, you take some leaves and place them on fabric, roll or fold the fabric, secure the bundle with some string. Next you place the bundle in a cooking pot and simmer for a few hours. No harmful chemicals are added, the fun is using only the things you find in your local environment and seeing how you can manipulate the fabric to get varying effects and unique one off prints.

What inspires and motivates you?

I love what can happen in the dyepot, and where ever I go I use this as a way to record and make me stop and look at what is around me. Sometimes I feel like I am just the facilitator of what happens to the fabrics that emerge, I have an idea of how I want the result to look, but the reality is always very magical and exciting.

What does a "normal" day look like for you?

A weekday begins with the rush to get everyone up, fed and out the door to school. Then I spend time working in the studio or outside gathering, processing leaves and plants. The studio work involves such a huge variety of things depending on the current project or exhibition. I also teach, so my time is shared between making, marketing and teaching.

What has been the biggest challenge you have faced with your business?
Getting the balance right, so that I can maintain the flow of work. Juggling exhibition work, with teaching and other making commitments is always a challenge. Its easy to get side tracked into making and playing with new ideas, when really whats needed is some focused productive work to get a project to completion.
What, in your opinion, makes your business so special and unique?
Having a foundation of traditional craft practices is what makes my work so unique, it takes age old methods and combines them with new ideas to produce one off unique hand crafted art and objects. All of which are environmentally considered from conception to fruition. I choose slow processes, to make slow art that can be used and treasured in our fast paced world.
Where would you like to see your business in 5 years?
The nature of the work I do ensures that it will always be made in a slow unique way, this ensures the integrity of each piece. I would like to see my studio work shared in the format of workshops to help keep the traditional skills alive, and continue to grow my exhibition work. As long as I am making and playing, and have an outlet to connect with an audience to share my stories and skills, I feel content.
Visit Annie's Workroom's website here and Facebook page here.