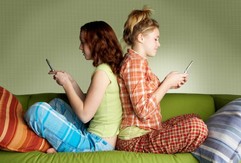 Reaching out to Generation Z can be daunting for a small
business owner. After all, this is a generation whose lives have been entirely connected through media technologies. Today's teenagers have even been dubbed the 'digital generation'.



So how does an independent business market their product or
service to a generation infinitely more technology savvy than
themselves?

1.
Make sure your business has a social media presence. Link your website
and ensure that it has networking capabilities such as a
blog.

2.
Talk the talk. Ensure that your social media posts are authentic and
relatable to your teenage consumers.

3.
Keep all social media content short and punchy. Teenagers will not
respond to wordy posts.

4.
Don't rely on just Facebook. There are many social networks out there
which appeal to many different types of consumers.

5.
Do your research. Speak to teenagers and those with teenage siblings or
children. Personal experience is invaluable when it comes to marketing your
business.