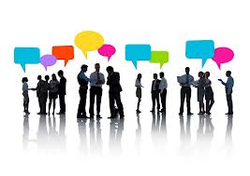 Networking events can seem as intimidating as a first date for
small business owners. Worrying about how you're dressed, if there's food in your teeth and what on earth you're going to talk about will heighten any anxiety you're feeling.

Here at the Handmade Exchange we know the feeling and offer nervous business owners our Top 5 hints to get you through the awkward phase and into successful business relationships.

1. Do your research prior to attending network events. If you know what you're walking into you'll feel more confident.

2. Networking events are a place to promote your business in a relaxed manner, don't treat them like a business meeting.

3. Don't be afraid to ask for advice from more experienced business owners.

4. Networking events are a great way to find out what is going on in your community and how that can benefit your business.

5. Speaking to other business owners in your area is a great way to develop creative solutions to problems you may be experiencing within your company.

For more helpful tips on networking events and all your business marketing needs contact Fierce Publicity.

Email: info@fiercepublicity.com