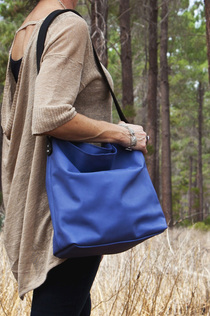 I am Bec, the lady behind BHO bags and purses, and here is a peak into my world of leather...

Sourcing supplies is never easy. We spend hours trawling the internet, making phone calls and email inquires. Leather is certainly the hardest one of the bunch though, as it's so tactile and there are so many variations due to its organic nature.

When initially sourcing my leather I wanted much more than a certain look and feel. I wanted to know where it came from, how was it processed and whether it was sustainable. When I looked deeper into how leathers were processed I was shocked to find that methods banned here are still being used in places like India. That was when I made the choice to source my leathers from a company that has an ecological conscience...

The company I use is located in Brazil and has been creating beautiful leather since 1943. Apart from the fact that they have a long history of creating high quality leathers, I went with this company due to their extensive facilities and diversity. They are focused on creating jobs in their community by being there every step of the way. What do I mean by 'every step of the way'? Let me explain.
The company's farms produce corn, wheat, oats, soybeans and barley.
They run a reforrestry project for their own energy consumption at their industrial plants.
No part of the animal is wasted. Their slaughterhouses are onsite and what can not go to the tannery and butcher becomes pet food and treats.
What can not be used after this process is turned into meat and blood meal for animal feed and tallow for the soap industry. The byproducts of this process are then used to create biodiesel.
The production of biodiesel comes from raw animal and vegetable. The plant produces 300,000 litres a day and reduces the impact on the environment.


If only all companies were as environmentally responsible as this one - just imagine the amazing world we would live in! This is what inspires my seasonal collections and forever designs. Bags and purses that will last the test of time and when their time is up, be absorbed once again by mother nature with no ill effects.
You can rest assured when you buy a BHO product it is the best of the best and made exclusively by me for you.
Signing off,
Bec @ BHO bags and purses
www.bhobagsandpurses.com.au
www.facebook.com/bhobagsandpurses