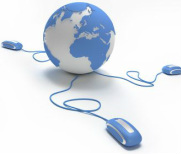 We know marketing. We do it all day, every day. Here are our top five marketing tips for small businesses:

1) Write down a single sentence that clearly describes who you are and what you do. Learn this sentence. When asked, use this sentence to help others understand exactly what you're about. You must be able to clearly communicate what you are about before potential customers will choose to buy your product or use your service...
2) Be different. Under no circumstances copy another person's idea or product. Sure, gather inspiration from all sorts of sources - but be better, faster, more innovative. And remember, you'll never truly shine with borrowed light.

3) Network, network, NETWORK! Look up business networking events in your area and go along at least once a month. This is a fantastic way to meet other entreprenurial individuals, develop partnerships and impress potential customers! Remember to have a stack of business cards and flyers ready to take along.

4) Get involved with local events. Become an 'expert' in your field by offering to speak at local events, or if possible sponsor a community event or organisation that receives a lot of publicity (keep an eye out for our blog post on D.I.Y Publicity in the next few weeks).

5) Get your business online! Your business NEEDS a strong online presence, no "if's" or "but's"! Fork out for a website and set yourself up on social media. Trust me - it's worth it.