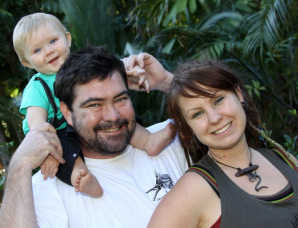 The other day in a weak moment sparked by the frustration of my reliance on failed technology mixed with sleep deprivation and the pressure of an unrealistic "to do" list burdening my conscious and unconscious mind... I said to my partner... "Maybe I should just get a real job!"

A weak moment indeed! Don't get me wrong - I love being a Mumprenueur! It's definitely a challenge but luckily I'm creative... I love a challenge.


I'm so lucky to be able to work from home, watching my 11 month old son Jahva play while I work, and being able to be there when he needs me. However the line between work and mum time is often blurred and there's never a moment when there isn't something i need to do. It's difficult having such a cute distraction around, but somehow I've managed to become more organised and have embraced the fact that I simply can't do 'everything'.
I must admit it was much easier when he had two sleeps during the day, before he could reach my cottons and and before he became fascinated with my machine pedal. At first his makeshift playpen was perfect, but it wasn't long before he learnt to scale the fence - determined to seek adventure amongst the creative jungle of my work room! My solution is to put myself in the playpen and he has free reign on the rest... For now it works!
I'm also extremely lucky to have an awesome support network. My amazing partner Ryan is dedicated to helping me in the business and looks after our son Jahva while I work. Ryan's mum 'Grandma Karen' adores her first grandson and wants to look after him any chance she gets (which is a godsend on Saturday mornings when we set up for the Eumundi markets). My mum also helps me sew most weeks and helps look after bub. Even my dad's 2nd wife Irish helps me sew and my friends often come help me sew to swap for clothes. Yes, it's a real family affair!
Despite the challenges of running my own business and being a new mum I'm surprised at how my label has continued to grow and evolve... I was worried I wouldn't have as much time to continue my creative journey, but even though this is true it hasn't hindered me, rather is has inspired me and given me new Zest for design.
Inspired by my son Jahva and the other cute kids in my life I have started a kids line which is sure to grow as they do .... so stay tuned!
Website:
www.limezest.net.au
Facebook
:
www.facebook.com/LZfunkythreads
*Leah is the creative mumpreneur behind Lime Zest Funky Threads -
click here
to view a selection of her unique clothing creations*