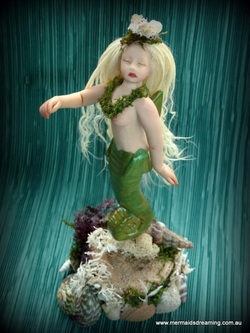 I'm Vanessa from Mermaids Dreaming by Vanessa Witschi on Facebook and I love polymer clay! A strange thing to love, I know… but I do! And I have made a successful business making and selling handmade one-of-a-kind polymer clay mermaid and fairy figurines, primarily through Facebook.

I opened up my Facebook business page 18 months ago and am coming on to 3000 likers, without the use of like ladders (actually, I think I did it once!) or buying likes or using pages that are made for increasing your likes.

It's hard to build up a business in handmade one-of-a-kind creations, but I have - and you can too! I did it through hard work and some simple ideas and practices that I adopted right from the start. I hope these ideas can help you and your handmade business too!


1. Treat everyone like a friend.
When I started my Facebook page I decided that I was going to treat every interaction with someone as a personal conversation. I make a point of responding to every comment made on my page. If the person commenting has bought from me before, I ask after their mermaid or fairy figurine so they know I remember them. It's a simple thing, but customers appreciate genuineness. They like it when you remember them. And I usually do!
2. Let people get to know a little bit about you.
Most people like people! Have a picture of yourself somewhere on your page. Periodically put up a picture of you doing something, with a couple of personal details. Let people know a little bit about you! People feel more comfortable buying from someone they feel they know a bit!
3. Be generous with your competitions and reward your loyal followers.
The first point I'll make is to ensure your competitions comply with Facebook guidelines. I admit that mine haven't always, but if they don't, you run the risk of Facebook shutting down your page. There are some great free apps to help you run competitions that comply with Facebook guidelines here:
http://www.wahmdirectory.com.au/free-legal-facebook-competitions/
Everyone loves a competition – a chance to win something for nothing! I have regular competitions on my page, to mark the passing of significant numbers of likers. I try to be generous with my competitions and they attract a lot of interest! I usually have a random number competition so that everyone who likes my page has a chance to win. I give away a mermaid or a fairy ($60-$80 value). I usually also give away a
couple of "free postage to anywhere in the world" gift certificates for one of my mermaids or fairies. And then I usually have one or two extra give-aways of a mermaid or a fairy that isn't random. I choose someone to give them to who regularly comments on my page. I either send them a mermaid or fairy that I've made for them or invite them to design their own custom made mermaid or fairy that I make for them. It's a little way that I can let them know I appreciate their support.
4. Develop a method to remember names and details of other business pages.
I have to confess that I have a terrible memory. So I've developed a method to remember names and details of other business page owners. Whenever someone from another business page comes for a visit and likes my page, I make a point of writing down the name of their business page (in a little address book I keep by my computer) and their own name. In my little address book I write down a brief description of what they make, and my favourite items. I have done this for almost all the businesses that have come over and liked my page.
When I do shout-outs to other businesses I often use this information. I might share a picture from their albums on my page. Or I share their page and comment on the type of thing they make. I then invite my likers to visit them and "say Hi to X from Mermaids Dreaming by Vanessa Witschi." When people comment on my page from their business page I say Hi to them, using their name. I wish I could remember everyone's name but I just can't. At least people know I've made an effort to remember them, even if I have to use a little address book!
5. Be friendly, generous and courteous when dealing with other business pages.
My pet hate is when people drop into your page because they've seen your name somewhere, and like your page just to get a return like. I don't like it. So I don't do it. I make a point of visiting the pages that visit me, and actually looking through their albums. I like and comment on pictures. And then I write on their wall, pointing out my favourite creations and thanking them for visiting me at Mermaids Dreaming by Vanessa Witschi.
Likewise, I wouldn't ever go onto another polymer clay artist's page and post a picture showing my latest creation. It's just not courteous. I would, however, go onto a community page for people who like mermaids or fairies and show them a picture of my latest work. It's a good way to build up likers without stepping on anyone's toes!
I'll finish by noting that I am far from perfect in these things. They are ideals and practices that I try to adhere to – but I sure don't always manage it! I do, however, believe that these things have helped me build a successful Facebook page community. Many of these people have turned into customers and some have also turned into friends, making my business all the more enjoyable!
Vanessa Witschi creates handmade one-of-a-kind mermaid and fairy figurines for little girls, girls at heart and those who truly feel the magic of mermaids and fairies.
www.facebook.com/mermaidsdreaming
http://www.mermaidsdreaming.com.au/