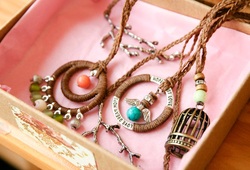 Hi everyone!
I was asked to write a little text about how and why I started my business Noosa Handmade. This is the story:

When I was 16 years old my boyfriend gave me a "make it yourself" bracelet-set for my birthday. I loved the bacelet and the idea of making my own jewellery and I started thinking about all different designs that I could make!

Six years later my boyfriend and I moved from Sweden to Australia together and I brought the bracelet with me. It was sitting in my bag for a year until i picked it up and started wearing it again. One day, about a year ago, I walked into a shop who sold the cutest little owl pendants (the one you can see on some of my jewellery) and I remembered the idea I had when I was 16 years old about making my own jewellery.
I could not resist buying the pendants and when I got home I made a bracelet with a technique - macramé - that I had learnt growing up. Then I wanted to make a different one and I went to some other bead shops and bought some more material and came up with some new designs. And then I wanted to make a necklace as well, and another one and another one... I had finally found a way to use my creativity!
A few months ago I achieved my first goal - to sell a piece of jewellery! Since then many more of my Noosa Handmade pieces have been sold and I could not be happier! A few weeks ago I achieved my second goal - a beautiful shop wanted to sell my jewellery! This has been such a fun journey so far and I have so many ideas and designs in my head that can't wait to get out!
I am now making jewellery by hand under the name Noosa Handmade and you can find my jewellery on Hastings Street here in Noosa, on my website
www.noosahandmade.com
and on Facebook. Thank you for taking part of my story and I wish you all a great day! :)
Camilla,
Noosa Handmade